International Student Volunteers Play Integral Role in Building SCinet
SCinet students and volunteers value collaborating with the "best professionals in the field."
Each year a select group of students from all over the world work alongside network engineers and IT professionals to build the world's fastest temporary network—SCinet.
Altogether more than 180 volunteers from educational institutions, high performance computing centers, network equipment vendors, U.S. national laboratories, research institutions, research networks and telecommunication carriers design and deliver the network for the annual SC Conference.
Student volunteers work closely with a variety of SCinet teams, and they play an integral role in bringing the network to life. In return, SCinet offers these students an opportunity to grow their professional networks and participate in an immersive professional development experience unlike any other.
Following their participation in SC17, a group of student volunteers reflected on their experiences with SCinet and reasons for coming back for multiple SCs.
In 2011, Julian Hammer attended SC for the first time to present his bachelor's thesis on the topic of simulations parallelization. He has returned each year since to volunteer with SCinet. He said volunteers join SCinet from a variety of fields and with varying degrees of networking experience.
"They don't expect you to configure routers blindly. If you are in a technical field and you are willing to put some effort into it, you will be supported to learn from some of best professionals in the field."
Hammer is a doctoral student at the University of Erlangen-Nürnberg in Germany, and his research focuses on modelling the performance of HPC kernels. His passion for networking and HPC is the reason for his six-year stretch as a SCinet volunteer, which has provided him with experience on SCinet's DevOps and Architecture teams. As a member of the latter, Hammer's name was credited on the official SCinet architecture diagram at SC17.
"Both teams are very supportive and try to integrate students with interesting tasks. In DevOps I was free to implement my own measurement statistics and analyses, which were displayed on the show floor. In Architecture I was able to get a glimpse at how the network pieces fall together and get planned during the months before SC," Hammer said.
Xinchen Guo is a Ph.D. student in computer engineering at Purdue University in Indiana and a SCinet volunteer since 2014. Guo's research focuses on performance tuning scientific software at extreme scales. While his roles on the SCinet Power, Logistics, and Help Desk teams are not closely related to his research, the people of SCinet and the diversity of the work are what continue to draw Guo back.
"It's a really good chance to get to know people from governmental labs, universities, industrial vendors and so on — and of course to learn about state of the art technology," Guo said. "I learned how to physically lay out a fiber network, how it's all connected and how the routing, security and other things happen. Although they are not directly related to my research, it was helpful for me to learn how things happen beneath an application in the data center."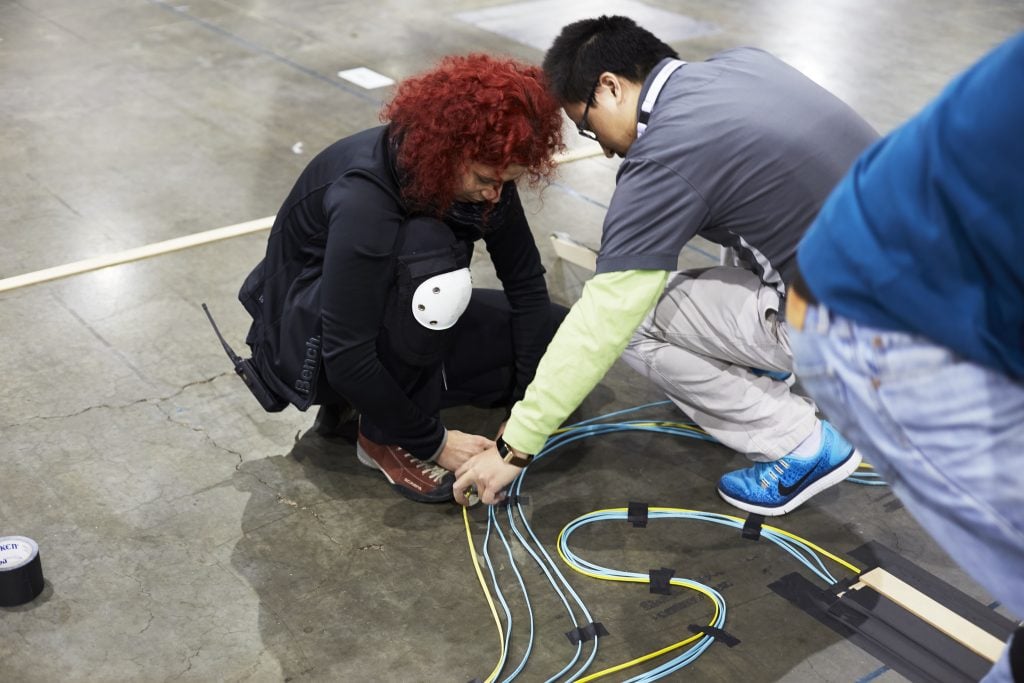 Daniela Novac volunteered at SC for the first time in 2012 when she was an undergraduate student at the University of Erlangen-Nürnberg.
"I was amazed at seeing the inner workings of such a huge conference," Novac said. "I was excited to be part of it, and especially in getting to know the dedicated people behind all of it."
Novac started volunteering for SCinet two years later. Now a doctoral student studying software watermarking, a technique used to prevent software theft, she continues to dedicate two weeks each November helping to set up and operate SCinet. Her participation includes serving on the SCinet Network Security team.
Felix Zahn completed his third year as a SCinet volunteer during SC17. He is currently pursuing a Ph.D. in computer engineering at the University of Heidelberg in Germany. Zahn cited his SCinet peers as the main reason for his return.
"For two weeks, you meet with other people from around the world to work together on this project," Zahn said. "You get to know them and make friends—not only for two weeks."
A SCinet student volunteer for two years, Gonzalo Rodrigo continues to be dedicated to the effort following his graduation from Umeå University in Sweden.
"SCinet is one of the most sophisticated networks in the world and it is unbelievable how people from so many fields, environments and contexts actually manage the chaos of setting it up in such a short time," Rodrigo said. "You come to the setup week and you see how everything transforms from an empty space to this beautiful exhibit hall."
Rodrigo is now a postdoctoral researcher in the Data Science and Technology department at Lawrence Berkeley National Lab in California. At SC17, his name was listed alongside Julian Hammer's on the SCinet architecture drawing.
"SCinet gives me the chance to come back working close to networks and fiber optics, which is not my main research topic," he said. "You get exposed to things you may have heard about, but are hard to understand unless someone teaches you how they work."
The SC Conference series offers students many opportunities to get involved. The call for student volunteers is open now through June 15, 2018. Visit the SC18 Student Volunteers page or email volunteers-leads@scinet.supercomputing.org for more information about how to get involved.